Phish's success is often credited to non-unique factors like variable setlists and letting fans record live performances. Sure, those helped. But what really sets the band apart are dozens of smaller elements – including a "secret language" of musical "signals" – that generate band-audience interaction beyond what any other act has achieved. Five have been "taught" to the audience during a show, of which the first four were introduced on 3/6/92:
All Fall Down: after a sequence of four descending notes, everyone falls (or at least crouches) to the floor as the music collapses in a downward spiral, until Fishman's high-hat resumes the song. First appearance: 3/6/92 (at the 4:23 mark).
Aw, Fuck!: (aka "Fingerscrape") after a long scraping noise from Trey (introduced 3/13/92), scream "Awww, Fuck!" and hold up your middle finger like you chopped it off. First appearance: 3/6/92 David Bowie (1:53).
Random Note: after a ten-note sequence you'd recognize as circus music (from Julius Fučík's Entrance of the Gladiators, the two measures immediately after the opening 12 seconds), the response is to sing "ahhhhh" at any pitch, tone, volume, etc. First appearance: 9/13/90 Possum (5:47).
Simpsons: when a 10-note sequence from the opening of the Simpsons theme song is played, scream "D'oh!" like Homer. First appearance: 9/25/91 Possum at 1:11 (the signal was also played earlier in the show during Reba but without the "D'oh!" response).
Turn, Turn, Turn: after "to everything, turn turn turn" from the Byrds' classic is played softly, everyone turns to face the rear of the venue and cheers as if that's where the band was. First appearance: 3/6/92 Possum (0:45).
For each, Trey has explained them, demonstrated the signal once or twice, and then on occasion had the audience practice, thus teaching them that part of the "language."
Trey typically indicates that a secret language signal is coming by playing a high-pitched, three-beat trill, followed by the signal. According to the first two lessons, the cue and signal(s) could come from Trey, Page, or Mike. In practice, virtually all of the signals have been by Trey. They have most often been used during "David Bowie," "Possum," "Run Like an Antelope," "Esther," and "Wilson."
The instructions have been given only ten times, from 3/6/92 to 3/16/93, with the most complete set on 5/14/92. Signals began occurring without instructions almost immediately, such as 3/14/92 (only 8 days after their introduction), though that sometimes didn't work: After trying an All Fall Down signal at the start of 3/13/92's "Possum", Trey realized he needed to give a second lesson. Fans on Phish.net (in its mailing list infancy) had already discussed the previous instances; but in the days before MP3s, it would take weeks and months for analog cassettes to circulate the instructions. Even with smaller crowds, venues, and fan base, the secret language left out many die-hard fans from the start.
On the back of fears that newcomers might be alienated, the cues themselves dropped dramatically in frequency. But the band's secret language existed prior to the five signals fans know, and continued for several years, through several unexplained intra-band signals that facilitated improvisation, song pace, song changes, and more, and from which the audience signals were created as an extension.
The Secret Language showed up more often than not in setlists from the fall 1990 tour through 1994, but dropped off considerably in the late 90s, with four appearances in 1996, three in 1997, one in 1999, and one in 2000. 7/2/2011 featured the first signal (a Simpsons signal) in 11 years. It remains to be seen if there will be more secret language in the future.
An internal cue was used from 1990 through 1991 to indicate that the band was going to partake in its secret language: The Charlie Chan signal (first appearance: 9/13/90 Possum at 3:34). This 9 note riff, also known as "The Oriental riff," was a featured in the opening of the Vapors' "Turning Japanese." When the secret language was introduced to the crowd on 3/6/92, Trey explained that it the Charlie Chan signal was "too easy for everybody in the audience to know what was going on" and had been changed to a high-trill. The Charlie Chan signal was never used again to introduce a signal, but was teased in the 6/14/00 "Fee" and the 9/4/11 "Tube"
Of the band's internal signals, some are obvious, and referred to as signals in our setlist show notes, including:
Clapping Signal: This ten note riff repeated twice results in a bizarre period of clapping from the band before a concluding yell. The title of this signal is likely incorrect but has been labeled as "Clapping" for the time being. The Clapping signal is only known to have appeared twice in the Fall 1991 tour, first showing up at 4:28 in the 9/25/91 Chalk Dust Torture and then resurfacing in the 9/30/91 Possum.
Complete Stop: Two four note phrases repeated, followed by an ascending rise up a scale results in a complete stop from the band. The first two appearances of this signal feature the ascending rise, but from 1992 onward, only the two four note phrases were played. The title of this signal may be incorrect, but has been named as "Complete Stop" for the time being. First appearance: 2/19/91 David Bowie (9:56).
Get Back: after the ten-note "Jojo was a man who thought he was a loner" line from the Beatles' "Get Back", the band returns from a jam to the previous song, or to the first in a series. First appearance: 3/6/92 David Bowie (1:18).
How High The Moon: The melody from this Morgan Lewis jazz standard (also played in its entirety by Phish on five occasions) results in a series of descending notes. First appearance: 9/15/90 Possum (7:36).
I Let A Song Go Out Of My Heart: This 9 note signal is from the Duke Ellington standard and would result in the band completely switching into another song. First appearance: 9/13/90 AC/DC Bag (6:52).
It Don't Mean A Thing (If It Ain't Got That Swing): Phish incorporated this Duke Ellington standard into its Secret Language library; everyone swings like they're holding a bat, creating a one-beat pause. First appearance: 3/6/92 David Bowie (12:26).
Key Change: Four notes (a higher note, a lower note, and then the two notes are repeated) result in the jam dropping to a lower key, rising to a higher key, and then returning to the key it was originally in. The title of this signal is likely incorrect, but has been named "Key Change" for the time being. First appearance: 9/25/91 Chalk Dust Torture (3:16).
Me and My Arrow: after the title phrase from "Me and My Shadow", everyone in the band points to the tall guy or asshole, as the case may be; see 5/3/92 or 5/7/92. The signal can be followed by sub-signals: a hi note to indicate a tall person, the same note for a normal person, a low note for a short person, and a tritone to give someone "the finger". First appearance: 3/6/92 David Bowie (3:15).
Oom Pa Pa: three notes repeated twice results in a waltz riff. Commonly called an Oom Pa Pa signal, this was noted in The Phish Book as "Weep, weep, weep" with a "Waltz C♯ to G" description. First appearance: 9/13/90 Possum (5:15).
Popeye: The band plays an "ambient b#." In 10/13/91's David Bowie, the Popeye signal (which is actually The Sailor's Hornpipe) was played but resulted in a random note being sung (this would happen on three other occasions throughout the remainder of 1991. First appearance: 9/13/90 Possum (3:40).
Random Laugh: following seven fast notes in rising 1/2 steps, the band bursts into loud, fake laughter, briefly pausing the jam they're in. First appearance: 9/15/90 Possum (8:39).
Star Trek: The theme to Star Trek is played results in the band saying "Wesley" (after Wesley Crusher, a character on Star Trek: The Next Generation). This signal made its lone appearance in the 3/6/92 David Bowie (1:31).
Tritone Down: Four low notes (a lower note, a higher note, and then the two notes repeated) result in the jam being brought down to half speed and then sped up before returning to normal tempo. First appearance: 9/15/90 David Bowie (11:41).
Up, Up, and Away: This signal comes from the Fifth Dimension recording (and was previously labeled on Phish.net as "Chaos"):a four-second riff that triggers wild rapid play from all four band members. First appearance: 3/6/92 David Bowie (2:13).
Will The Circle Be Unbroken?: The melody from this spiritual results in the band briefly playing in a higher key. First appearance: 3/6/92 David Bowie (0:53).
Four more internal signals are listed in Richard Gehr's The Phish Book (1998), though we're not able to confirm or provide examples of these:
½ step down: go down ½, up whole, down ½;
Sound of Silence: silence (dont play on "1"), fake "blap";
Raising ½ steps / lo note: ha, ha, ha, blap;
For 12-31-92 (broadcast and rebroadcast on Boston's WBCN), the band attempted something even more dramatic: instructing the entire audience, via a flyer distributed upon entrance, with the following intro and additional signals: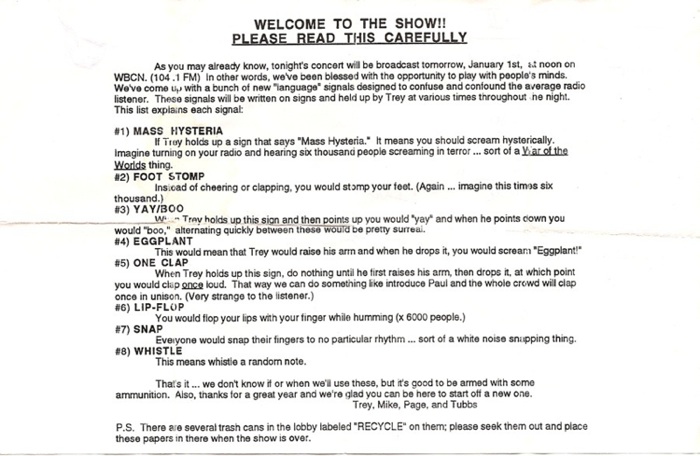 Some of those were used that night - during "Harpua", "Col. Forbin's Ascent", and "I Didn't Know" - but none have re-appeared since.
A few attempts have been made by audience members to mimic this conducting of en masse goofiness, including Darius' signals flyers.
And Phish isn't the only one to use signals, even these specific ones. For example, at the end of The Roots' 5/16/99 set at the Mayo Island Music Festival, each member of the band did solos. The bassist's solo included the Simpsons signals, and the whole band responded, "Doh!"